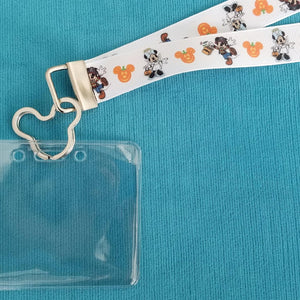 Lanyard - Halloween Costumes - Mickey's Not so Scary Halloween Party
I love using a lanyard for my room key/KTTW card on my resort vacations & cruises, but I have a sensitive neck and all the ones I had found were so scratchy! 
In looking for a solution, I found great ribbon and fun keyrings and made these!
The Halloween Costumes is perfect for Mickey's Not So Scary Halloween Party! It features Mickey and Minnie in Halloween costumes, alternating with a Mickey pumpkin, on a white background with a Mickey-shaped ring.
These are made with soft grosgrain ribbon and the pouches are heavy, not flimsy.
Standard pouches must be removed from the ring in order to put your cards in, meaning there is no way your card can accidentally slide/fall out!
Zipper pouches seal securely and are best for when you need to remove your card frequently.
Available in both child (30" loop) and adult (36" loop) sizes.
Perfect gift for those you know heading out on resort vacations or cruises!